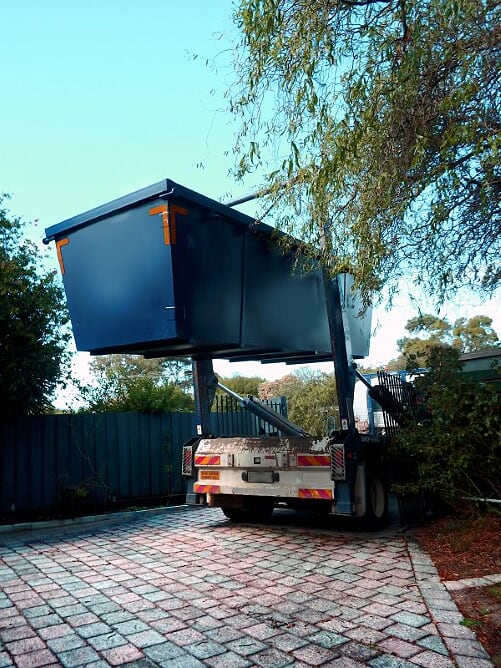 Ordering the right skip bin size will save you a considerable amount of money. If you order an additional bin to accomplish your clean up, you will end up having to bear extra costs of up to $200-$300.
However, if you simply order the next size bin, the additional cost will only be around $100.
Therefore, if you are looking for a skip bin hire Sydney, you must be smart enough to choose the right size and avoid costly mistakes. Mentioned below is a guide to consider when you hire cheap skip bins Sydney.
2-3M³ Skip Bin – Ideal for small garage cleanups, garden cleanup
If you have alot of smaller items in your garage cleanup this will be the ideal size. We do not recommend this size however if you have bulky household items such as refrigerators, cupboards, ovens, washing machines and so on. This size is also ideal for general household garden clean up.
4M³ Skip Bin – Ideal for bathroom renovations and moving houses
When it comes to a bathroom renovation project, there will be disposing of waste like old shower curtains, cabinetry, tiles etc. In this case, the ideal option would be a 4M3 skip bin. In addition to that, the same cheap skip bins Sydney should be ideal for moving houses where small clean-up work is involved. 4M3 skip bins are also ideal for quarterly garage clean ups.
6M³ Skip Bins – Ideal for all sorts of construction/renovation)
Depending on the size of the home, the amount of waste you have to dispose will vary. The waste may comprise of old dishwasher, wall tiles, stove, bench tops etc. In this case, the best skip bin hire Sydney would be a 6M3 skip bin. Ideal for yearly garage cleanups or otherwise any renovations around the house.
8-9M³ Skip Bins – Ideal for commercial/industrial cleanups & building/renovation
Ideal for commercial or industrial cleanups with large bulky items. Also for building or renovation with large bulky items such as office strip outs. Choosing a slightly bigger skip bin will be a much wiser decision than ending up having to order 2 smaller skips.
10-12M³ Skip Bins – Ideal for larger commercial/industrial cleanups & construction
When you are moving from a large house or commercial/industrial property which involves large cleanups, you should go for a 10-12M3 skip bin.
Besides, building new extensions and performing a major garden renovation will require skip bins with the size of 10-12m3 in most cases. The foundation work and the items that should be removed will require larger bins like 10m3.
These are the most common sizes of cheap skip bins Sydney you can order. Having a good awareness of the sizes will allow you to save a considerable amount of money. Also, it allows you to avoid potential issues like requiring another bin which will cost you more overall. It is also vital to fill your Skip Bin efficiently to save further waste disposal costs.