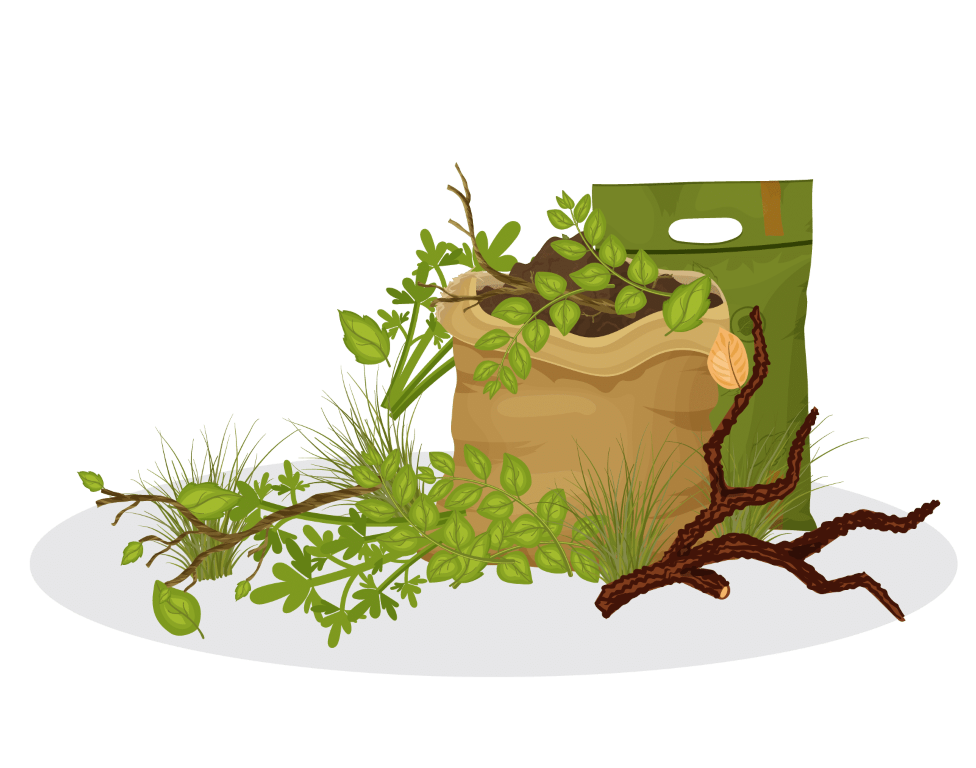 Did you know that approximately 50% of household waste in Australia is considered to be organic? And a significant proportion of this is green waste.
But given how much green waste we produce, not everyone is clear about what to put in their green waste bins.
To ensure you opt for the correct skip bin for hire in Sydney, we explain what is (and isn't) considered green waste below.
Mowed Grass, Dead Leaves, and Flower Trimmings.
When most people think of green waste, they automatically consider mowed grass, dead leaves, and trimmings from their garden.
Leaves need to be swept up as the seasons start to change, as they can look messy in your garden and can even become slippery if left on garden paths.
If you have undertaken a significant amount of work in your garden, you may have the need for green waste skip bin hire in Sydney, which is more environmentally friendly than sending your green cuttings to landfill.
Woodchips and Bark.
You can dispose of woodchips and bark in our green waste bins, as they are considered light pieces of timber.
But importantly, large, heavier pieces of wood and timber can't be disposed of in green waste, so you need to distinguish between the two.
Branches, Twigs, and Small Stumps.
When you're tidying up the garden, you will come across fallen branches and twigs that you want to remove from your lawn and bushes. It's perfectly fine to break these up and put them in your green waste bin.
As for stumps, small trunks and stumps are allowed, but those more than 150mm in diameter are not accepted, and these should be chipped down before discarding.
These three groups will form the majority of the green waste that you can discard once you've arranged for your green skip bin hire in Sydney. Now, let's look at what shouldn't be included in green waste.
Rocks and Soil.
Although rocks and soil fall under the category of garden waste, they're not green and shouldn't be placed in our skips!
If you're landscaping your garden, you will need to separate your green waste from any soil and rocks and ensure they are discarded separately.
Dirt and Clay.
Like rocks and soil, dirt and clay are common types of garden waste, but they're not suitable for green waste skips.
You can always opt for our soil/dirt option when looking for the perfect skip bin for hire in Sydney, as this is perfect for large volumes of such waste.
Hazardous Materials.
For obvious reasons, it's vitally important not to include any hazardous materials in our green waste bins! The following materials are not considered green waste:
• Asbestos.
• Batteries.
• Insulation.
• Liquids.
• Chemical containers.
• Food.
• Paint.
Hazardous materials should be discarded responsibly and in line with state and city regulations, as they pose a danger to the natural environment if they're not disposed of correctly.
Contact Us Today for the Best Skip Bins for Hire in Sydney.
If you are looking to dispose of green or any other type of waste from your residential property, get in touch with 7 Skips today, and we'd be delighted to assist you.
With lots of waste options and a friendly, dedicated customer care team, we provide different-sized skip bin hire in Sydney to a range of clients. Click here to view our detailed skip bin guide.